I am so excited to join Aleigh Joy Moore of For the Joy of Life in this week's A Thankful Heart Link Up.  I have so much to be thankful for this year, and I would love to share the reasons why :)
My family
My husband and kiddos are my entire life and I thank God every day for them. Charley is the most supportive, loving, hard-working, hilarious husband in the world, and I couldn't imagine doing life with anyone else. I am so thankful that we are raising these four beautiful, healthy children together.
2. Vacations
We have been blessed enough to be able to take wonderful vacations every year, and this year we took the kids to Disney World! It was Luca's first time (we took Caleb and Kyleigh 5 years ago), and he absolutely loved it. He was totally starstruck when he saw Mickey :) I am so thankful that we are able to give our children these experiences.
3. Christmas
Christmas is my absolute favorite time of the year. I am pretty much like Buddy the Elf for the entire month of December. I love the visits to see Santa where the kids are absolutely terrified. Our annual trip to see Santa's reindeer at Christmas in the Mountains. Mailing letters to Santa. The total chaos of Christmas morning. Getting all dressed up on Christmas Day and spending the day with Charley's family. Christmas Eve at my Aunt and Uncle's house – something I've done since birth and now my husband and kiddos enjoy too. Buying a new ornament for the tree every year. Picking out a tree and decorating it. That's one of my favorites – we always get a live tree. Shopping for Christmas presents. Baking tons of Christmas cookies. Getting Christmas cards in the mail. Watching movies like White Christmas, The Santa Claus, Christmas Vacation…the list goes on and on! I am so very thankful for this season and the family and friends I get to celebrate with.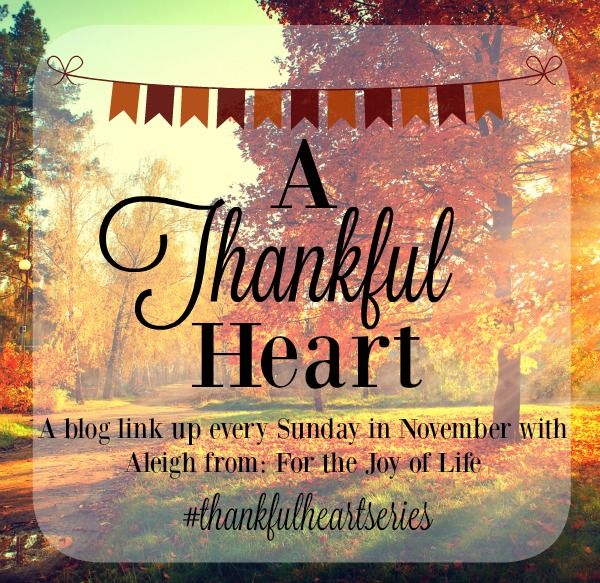 1) Please subscribe to or follow your host and co-host's of the week. (first 4 links)
 2) Visit and comment on at least 3 other blogs. This link up is meant to create a blog community so don't be shy!
 3) In your post, please either share The"Thankful Heart" button above by inserting the code or link back to this post on your blog post.
4) Make your post more appealing and creative by adding whatever pictures you please and as many reasons to be thankful as you'd like! (remember that the post you link up should be about what you are thankful for!)
(#5 is optional but, very much recommended!)
 5) Share your post on instagram using #thankfulheartseries (with your choice of picture) and go check out other posts! Be a friend and comment on or like their posts :)